Press Master is pleased to introduce our newest hydraulic press, the 100 ton Gantry Straightening press, 2 feet x 8 feet. It will quickly become your go-to machine for a wide range of jobs. It answers the need for a reliable, versatile hydraulic press for shops of every size.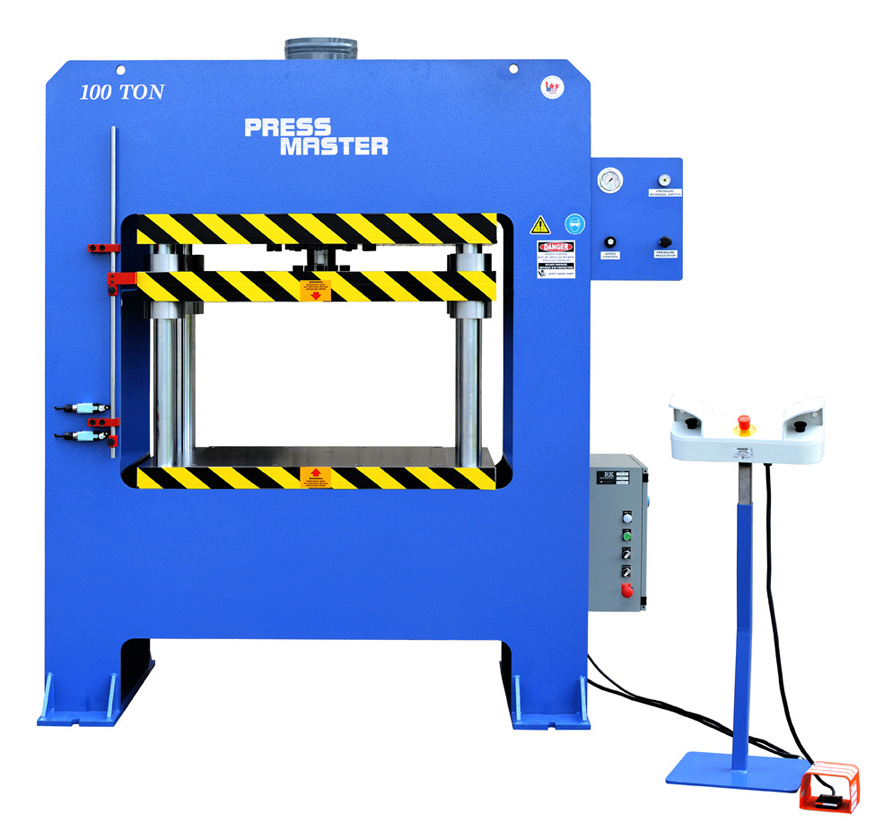 It has been designed and built to meet the high standards of Press Master, with over 40 years of experience in the field. We're the industry leader when it comes to innovative solutions in the field of hydraulic presses.

Versatility and Safety

The flexibility built into the new Gantry Straightening press makes it an efficient all-arounder, the type of press every machine shop needs. With 3 axes, it offers greater versatility. The speed of each axis can be adapted to fit the needs of the job.

The press displaces both left and right, and downright ram movement. With this type of machine flexibility, the operator can adjust for all types of job specifications. One press can handle the requirements of a variety of projects.

For example, do you have jobs that require a slower speed? The new Gantry Straightening press can go as slow as required.

Safety is built in. The press has a pressure regulator that controls ram pressure. The equipment has no pinpoints that might result in an injury. We're proud that our Gantry is completely CE-approved.

Standard and Optional Features
Like all Press Master machines, this 100-ton Gantry Straightening press comes with a variety of features that are standard, including:
16-inch cylinder stroke for straightening steel plate, round bar and other useful operations
Movable workhead for off-center jobs
Cylinder activation using fingertip controls
Cylinder that is simple to position for straightening jobs
Flat ram nose that is easy to change
Low pressure design that makes the press efficient, durable and safe
Parts standard and available throughout North America

Do you need specific capabilities for certain customers? Look at the options available for the Gantry Straightening press:
Hydraulic press V-blocks
Wireless remote control that is handheld to give your operator easy maneuverability
Stop/Start emergency button that is directly wired to the motor

Press Master is known as the hydraulic press customization expert. If you need more individualized functionality, our designers will work with you to build a press that meets your exact requirements.

Trust the Professionals
Press Master has been serving the machine shop field for over four decades. That's a lot of experience! We take pride in designing innovative solutions.

Our goal is a press that gets the job done efficiently, safety, and reliably. Our new 100-ton Gantry Straightening press meets the high standards shop owners have come to expect.

You never have to worry about downtime if a press needs repairs. All our parts are standard and available throughout North America. You won't have to wait for a component to arrive from overseas.

Call Press Master today to find out how the 100 ton Gantry Straightening press can help your machine shop grow.